OPEN Wednesday, Thursday, Friday 10 am-4 pm + Saturday 6 July 11 am-4 pm
UNTIL Friday 26 July 2019
The Whitlam Institute's new exhibition features the first public display of a unique collection of artworks that was gifted to Gough and Margaret Whitlam in 1979 in recognition of their landmark support for the Arts in Australia.
The 'Whitlams' Folio' includes works by John Olsen, Brett Whiteley, Lloyd Rees, John Coburn, Arthur Boyd and more, and is inscribed with a message of thanks to Gough and Margaret Whitlam for 'the marks they have made on the Australian canvas'.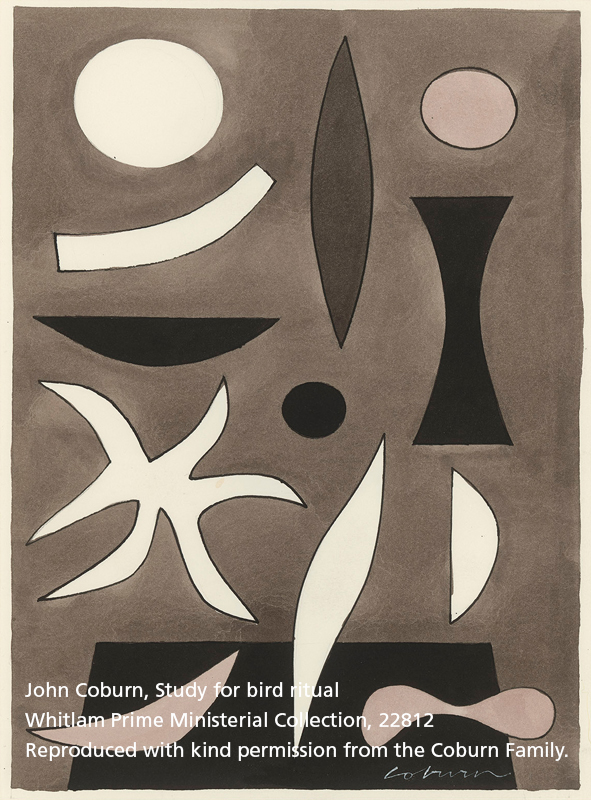 The display is part of a fascinating new exhibition, DEDICATED to the DEDICATED: Whitlam, the Arts and Democracy, which documents how Gough Whitlam viewed the arts as not just as a means of enriching quality of life, but as a fundamental human right and a precondition for a healthy democracy. In his words, "a society in which the arts flourish is a society in which every human value can flourish".
Opening Hours: This exhibition is on display in the Margaret Whitlam Galleries at the Female Orphan School from Friday, 7 June to Friday 26 July 2019 on Wednesday, Thursday and Friday from 10 am-4 pm and on Saturday 6 July from 11 am-4 pm.
Image credits: John Coburn- Study for Bird Ritual, Photo by David Porter/Fairfax Media, Gough Whitlam with Jackson Pollock's Blue Poles